WP Job Manager Field Editor now out of beta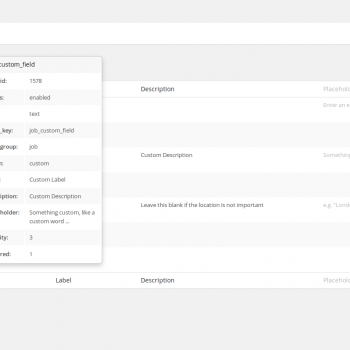 Just as the title says, the WP Job Manager Field Editor plugin is now out of beta stage and I would personally like to thank everyone who was apart of the beta program as a few of you provided great feedback for issues and bugs. Those who did provide feedback will receive a free upgrade to the next version, contact me directly for a new license key.
Now that WP Job Manager Field Editor is out of beta you will need to purchase a license in order to receive support and upgrades moving forward. With that being said, I would like to point out the new features and changes being released in version 1.1.4, as well as features that are planned and currently being worked on.
New Features in v1.1.4
French, German, Italian, Japanese, Malay, and Spanish translations now included!
Backup Custom/Configured Fields
Restore Custom/Configured Fields
Priority now fully supports decimals
Escape button closes modal
Enter button will submit modal form
New settings page ( About, Support, Backup/Restore, and Debug )
Localization now fully supported ( translation ready )
Multiple enhancements, tweaks, and improvements to speed up plugin
You can view the full changelog here.
New Features In Development
Education, Experience, and Links Fields Support
Application Form Support
Bookmarks Form Support
Shortcode Generator
Widget Generator
Enable/Disable Fields only in Admin (or frontend)
Drag and drop change field priority
HTML5 Placeholder for IE support
New shortcode and function arguments (output embed HTML such as YouTube, Vimeo, etc)
Automagically show custom fields on job/resume listing
Custom CSS for fields
Half Width Fields for Jobify Theme
And that's just the start of it!
Again, thank you to all the beta testers who did provide feedback, please contact me to get your free upgrade as a thank you.
Aloha!