Search and Filtering for WP Job Manager BETA – Now Available!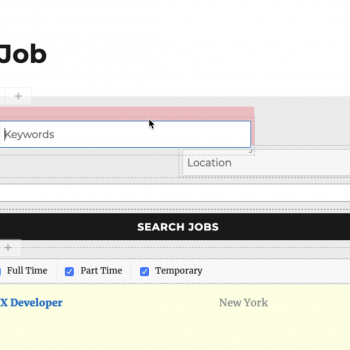 That's right!  The BETA program for the new Search and Filtering plugin is now available, and you can join the program by signing up with the link below.  But first … a few things to note:
You should NOT be testing this on a live production site!  This should ONLY be used on development environments!
If you are using the Capstone theme (version 1.7.2 or OLDER), there are some required file modifications until the theme developer makes changes to his theme to use the native WP Job Manager get_job_manager_template_part function instead of just get_template_part.Instructions on how you can do this yourself, can be found here:
https://plugins.smyl.es/docs-kb/capstone-theme-changes-for-search-and-filtering-compatibility/
Automatic installation of default search and filtering fields is not included in the beta plugin yet, you MUST download the Default JSON Import Files ZIP and then import the JSON file for your theme (or just the default one if there is no specific one for the theme you're using).
Search_and_Filtering_Default_JSON_Files
Finally, by joining the program you agree to the Beta Terms and Conditions

Specifically — after 90 days the beta version will deactivate itself, so you must keep the plugin updated for it to keep working!
Please also join the chat server at https://chat.smyl.es to discuss issues and problems and provide feedback on the Search and Filtering beta!
To join the beta program, sign up here:
https://plugins.smyl.es/wp-job-manager-search-and-filtering
Overview Video:
Importing JSON Files:


Building Default Search/Filters Form: